Sleep Disorders & COVID-19: What You Need to Know 
The coronavirus pandemic has ushered in a period of great uncertainty for most people. Here, at Sleep Health Solutions, we have heard from clients with a lot of concerns about insomnia, fatigue, sleep apnea, and other respiratory sleep disorders as they relate to COVID-19.  
In order to be a point of reference in this difficult time, we have formulated the following page. Here we provide information about sleep disorders as a risk factor for contracting COVID-19, the link between the pandemic and symptoms like sleep deprivation, anxiety, and fatigue, and answers to some of the most frequently asked questions.  
Get more information about risk factors and symptoms related to sleep disorders, including sleep apnea, insomnia (or 'coronasomnia'), and Post-COVID Fatigue Syndrome.  
Sleep Apnea
Sleep Apnea Linked to Coronavirus Complications
Medical experts have clearly warned the public that older people and those with underlying conditions are at high-risk for COVID-19. Some of the risk
factors for the coronavirus overlap with the same risk factors for obstructive sleep apnea.
Do I have a higher risk of getting coronavirus because I have sleep apnea?
People with sleep apnea – whether it's diagnosed, managed, or untreated – are more at risk of developing serious
COVID-19 complications. People who have a higher risk for severe illness from the coronavirus include:
Those who are 65 years of age or older.
Those who have serious underlying medical conditions. These conditions include:

Chronic lung disease,
Moderate to severe asthma,
Serious heart conditions,
Severe obesity with a body mass index (BMI) of 40 or higher,
Diabetes,
Chronic kidney disease,
Liver disease.

Those who have a medical disorder, or take a medication, that weakens the immune system.
Those who have had close contact with another person who has the coronavirus.
Learn more about the risk factors for coronavirus complications.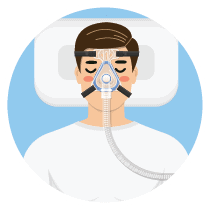 Concerns about CPAP Therapy
For those with obstructive sleep apnea, continuing with CPAP therapy while sleeping is important. However, some other factors should be considered during this time of pandemic in order to use it safely. You should pay special attention to cleaning and disinfecting the CPAP machine, replacing the filter as recommended, and using it away from others who may be at greater risk for contracting COVID-19.
CPAP therapy has been shown to facilitate the transmission of COVID-19 from person to person. Droplets and airborne particles containing the infection can be passed through shared or reused equipment that is not properly disinfected or aerosol generated by the machine.
It's important to understand that though continuing to use your CPAP machine is important, it can also cause a higher risk of transmitting the virus to others. The COVID-19 virus is also known to be viable on surfaces for several hours after aerosolization.
Insomnia
Sleep Deprivation as a Possible Risk Factor for Coronavirus
Doctors have long known that sleep deprivation damages your health. Studies have shown a strong correlation between the amount of sleep that someone gets at night and their body's ability to protect itself and recover from infections. In short, getting the recommended amount of sleep helps boost the immune system.
When we look at COVID-19, specialists believe that good quality sleep can reduce the risk. Being well-rested increases your body's resistance to contracting the infection and helps your ability to fight it off.
What can I do to decrease my risk for getting the coronavirus?
Sleeplessness Due to the Pandemic
Healthcare professionals are seeing an increase in patients reporting anxiety, depression, and sleeplessness. The physical and psychological issues are often connected and, during the COVID-19 pandemic, they are exacerbated by multiple factors:
High stress and general uncertainty,
Social isolation and lack of support from others,
Economic hardship,
Concerns for one's health and the health of loved ones,
Fears about the future,
Disruption or lack of daily routines,
Increased screen time,
Less time for relaxation and self-care.
What can I do to reduce anxiety during this period?
The pandemic has caused many people to experience higher levels of stress, anxiety, and fear. As mentioned above, worries about job security, concerns for your health, and feelings of isolation are common during this time.Supporting mental health should become a priority for anyone that is experiencing these feelings. The CDC recommends limiting the time spent watching the news or engaging in social media, taking care of your body with a healthy diet and exercise, finding time to relax during the day, and talking with friends and family. Get more advice on healthy ways to cope with stress.
Can sleep cycles be affected by the COVID-19 pandemic?
Stressful situations affect people in different ways and, often, they can make it difficult to fall asleep or sleep well through the night.Additionally, the pandemic has interrupted many of our routine activities that support a regular sleep-wake cycle. Try to wake up, go to bed, get physical activity and eat meals at the same time every day to help your body stay on schedule. Meditation, journaling, and reading before bed can also help you relax. Get more tips on calming your mind.
Insomnia Is on the Rise Because of COVID-19
The explanation above applies here as well. More people are experiencing anxiety caused the pandemic itself and the measures put in place to prevent the spread of the virus and protect people's health, including stay-at-home orders, lockdowns, travel bans, and social distancing. As a result, more are also suffering from sleeplessness.
When difficulty falling asleep and/or staying asleep become long-term, this is called insomnia. And recently a new term has been coined to describe insomnia during this period; it's called COVID-Somnia.
Find out more about drug-free treatment options for insomnia.
Is it possible to experience sleep problems because of the pandemic?
Post-COVID Fatigue
Just like with other viral infections, those recovering from COVID-19 may feel tired and lack energy for a period of time. According to the CDC, about 35% of patients recovering from the coronavirus feel fatigued for longer than other post-viral syndromes. Symptoms can persist for weeks following clinical recovery and after testing negative.
Is it normal that I feel tired after recovering from COVID-19?
Chronic fatigue is a common problem for people recovering from the coronavirus. Even those with mild cases, may feel tired or that they lack energy for multiple weeks after being considered 'recovered.' Tired symptoms following COVID-19 illness are considered typical for this type of post-viral syndrome.
Read more about how to boost your energy throughout the day.
How long does COVID-19 recovery take?
The
recovery period
can last anywhere from the typical 2-week timeframe, up to 6 weeks or more for severe cases of the coronavirus. Many recovering patients find it difficult to
return to work
right away.
Sleep Disorder Services at Sleep Health Solutions – COVID-19 Precautions
We are following the current recommendations from the American Academy of Sleep Medicine with regards to clinical sleep testing and sleep clinic visits if there is substantial community spread:
Postponing laboratory sleep studies for all clients. We are evaluating potential urgent requests on a case-by-case basis.
Providing HSAT services, using only disposable HSAT devices. We use disposable parts and thoroughly disinfect the fixed components.
The Sleep Health Solutions clinic is open for phone calls, telemedicine visits, remote sleep coaching, and emergency in-person visits.
We will work with clients if it's necessary to extend scheduled sleep study evaluations and follow-up visits.
Our staff is relaxing the requirements for face-to-face evaluations. To facilitate care and help protect the health of our clients, we are favoring telehealth as the safest option whenever in-person visits can be substituted.