Inspire Therapy for Sleep Apnea
Now there is a long-term solution for managing the symptoms of moderate to severe obstructive sleep apnea and central sleep apnea. Inspire sleep therapy is a surgical treatment option for adults with OSA that was approved by the FDA in 2014. It has been shown to effectively regulate breathing patterns, while decreasing snoring and sleep apneas, during sleep. 
Sleep Health Solutions is accredited by the American Academy of Sleep Medicine and has over five years of experience supporting the diagnosis and treatment of patients with sleep apnea. Our staff is highly specialized and all of the doctors on staff have at least 20 years of experience in their field. 
Our clinic is qualified to evaluate candidates for Inspire sleep therapy and provide regular follow-up care. First, Sleep Health Solutions schedules an initial consultation with our physicians. Then, they have an airway evaluation performed by an ENT. Following surgery for implantation of the innovative Inspire device, our physicians provide regular check-ups and adjustments for patients to ensure effectiveness over time.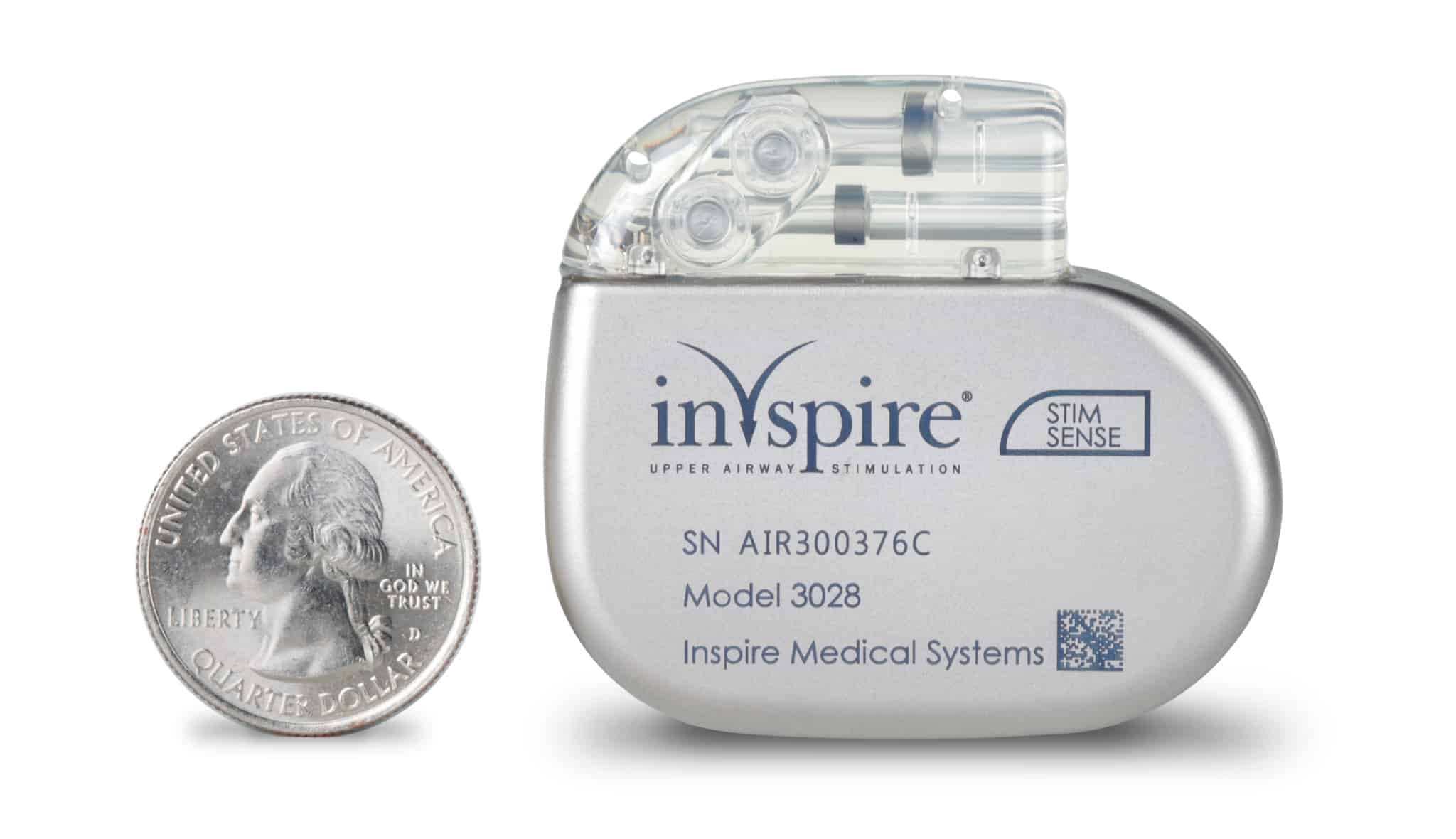 How to Use Inspire Therapy
Inspire therapy for obstructive sleep apnea is a surgical treatment that supports natural respiration patterns. By implanting a small device in the patient, it utilizes mild stimulation to activate the muscles responsible for breathing and keeping the airway open. The device is placed just under the skin to track each breath and can be regulated and adjusted over time to improve effectiveness.  
Get more information: What Is Inspire Sleep Therapy? 
Is Inspire Sleep Therapy Safe?
This treatment is considered a safe option for adults with moderate to severe sleep-disordered breathing who have been unsuccessful with CPAP treatment and are not considered morbidly obese (BMI lower than 32). 
Many patients are referred to our clinic for Inspire sleep therapy by their primary care physicians or cardiologist. Clinical sleep testing can help determine if this is the best long-term solution for your sleep apnea symptoms. 
Getting Started with Inspire Sleep Therapy
We accept referrals from doctors of any specialty, but no referral is necessary to arrange a consultation and see if you are a good candidate for Inspire sleep therapy. Request a consultation with Sleep Health Solutions for more information and to find out if this is the right sleep apnea treatment option for you.